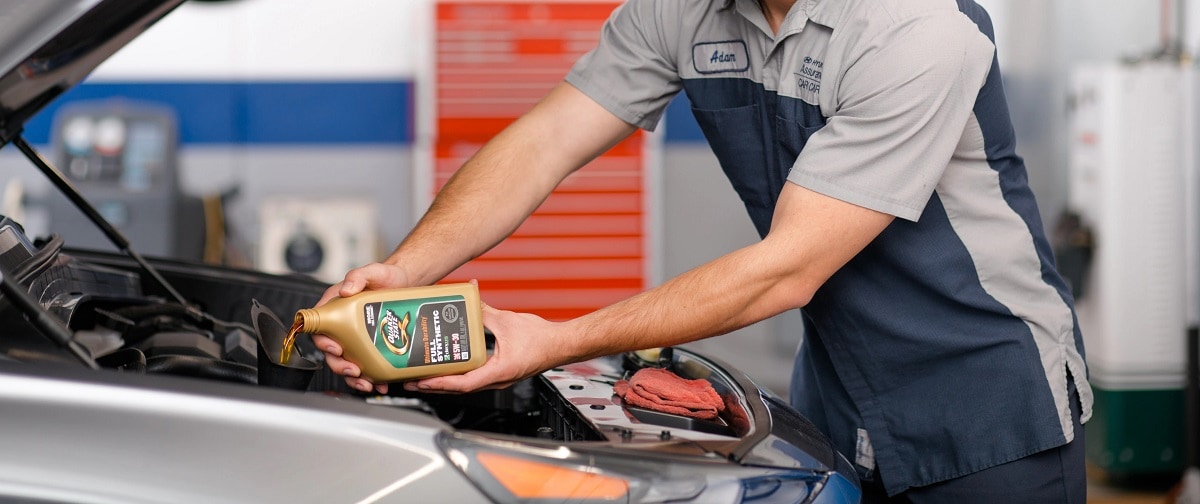 Oil Changes in Del Rio, TX at Hyundai of Del Rio
The oil change is the most basic maintenance service you can give your Hyundai and you can schedule one at any time here at Hyundai of Del Rio. The synthetic oil in most cars will fully degrade every 6,000 miles or so and the filter will also expire. Our dealership offers quick and convenient oil changes while you wait, using genuine Hyundai oil filters and the exact ol grade your car needs. Schedule an appointment for an oil change and let us answer your most frequently asked questions (FAQs) about oil changes at Hyundai of Del Rio. You will find us less than a 20-minute drive outside of Laughlin AFB in Del Rio, TX.
Frequently Asked Questions (FAQs) About Oil Changes in Del Rio, TX
What is "Synthetic Oil?"
Synthetic oil is an artificial blend made with petroleum and other additives which increase viscosity, fuel economy, and extend the fluid's lifespan. Synthetic oil has long been regarded as a cheaper, long-lasting, and more fuel efficiency alternative to conventional oil, primarily petroleum. While conventional oil is typically less expensive, synthetic oil is significantly longer lasting making it the preferred oil in most recent model year Hyundai models.
What Type of Oil Does My Hyundai Run on?
Your Hyundai runs at a specific synthetic blend of a certain viscosity (referring to thickness/fluidity). To determine the exact viscosity and grade your engine takes, consult your owner's manual for further assistance or contact our Hyundai service team.
What Does the Oil Filter Do?
While the engine oil we put in is clean, it accumulates contaminates from the engine and usage over time; contaminants which must be filtered out. If anything like dirt from the front grille or metal flakes from the engine find their way into the oil tank, the filter roots out the problem.
How Often Should the Oil be Changed?
Most people schedule their first oil change after 3,000 miles. As this time frame represents the car's "breaking in" period, the filter may have to work overtime and might expire faster. However, after this first change, then oil and filter should be changed every 6,000 miles or so. Our technicians will fit your car with a sticker that tells you when you should schedule the next oil change near Eagle Pass, TX.
What Happens if the Oil is not Immediately Changed?
An oil change should not go ignored for very long. While the car may stay fine a few miles past the due date, failure to change the oil and the filter will result in toxic sludge buildup from expired and contaminated oil. This toxic sludge can cause further damage to the engine, necessitating more expensive repairs later on. Do not wait!
Shoppers will find our Del Rio, TX Hyundai Service Department located less than a 35 minute drive West of Brackettville. Schedule an oil change and visit Hyundai of Del Rio today!